The 9 Madalyn Morgan (best romantic novels in english .TXT) 📖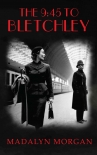 Download in Format:
Book online «The 9 Madalyn Morgan (best romantic novels in english .TXT) 📖». Author Madalyn Morgan
---
THE 9:45 TO BLETCHLEY
Madalyn Morgan
Also by Madalyn Morgan
Foxden Acres
Applause
China Blue
The 9.45 to Bletchley @ 2016 by Madalyn Morgan
Published worldwide 2016 @ Madalyn Morgan
All rights reserved in all media. No part of this book may be reproduced or transmitted in any form by any means, electronic or mechanical (including but not limited to: the Internet, photocopying, recording or by any information storage and retrieval system), without prior permission in writing from the author.
The moral right of Madalyn Morgan as the author of the work has been asserted by her in accordance with the Copyright, Designs and Patents Act 1988.
All characters in this publication are fictitious and any resemblance to real persons, living or dead, is purely coincidental.
British Library Cataloguing in Publication Data.
A catalogue record for this book is available from the British Library.
ACKNOWLEDGEMENTS
Edited by Morgen Bailey.
https://morgenbailey.wordpress.com/editing-and-critique/
Formatted by Rebecca Emin
www.rebeccaemin.co.uk
Book Jacket Designed by Cathy Helms
www.avalongraphics.org
Photograph of the woman and the policeman on the station:
Toni Frissell / Universal Images Group/Getty Images
The photograph of Bletchley Station:
Image courtesy of Living Archive Milton Keynes
Author photograph: Dr Roger Wood.
Thanks to author and friend, Debbie Viggiano, my beta reader, my mentor, Dr Roger Wood, for his brilliant critique, Christopher Hunter, an expert on the machines at Bletchley Park, for sharing his vast knowledge with me, and Jean Cheshire, nee Budd, who lived at Bletchley Park from 1938.
Thanks also to my friends, Jean Martin, Geraldine Tew and Kitty Jacklin, author friends, Theresa Le Flem and Jayne Curtis, and the LRNA - the Belmont Belles - for their support and encouragement. To Pauline Barclay at Chill With A Book, Gary Walker at Look 4 Books, Sarah Houldcroft at Authors Uncovered, Amy McBean Dennis at Oh Lovely in Lutterworth, W.H.Smith and Hunts Independent Bookshop in Rugby, and the Lutterworth and Rugby Libraries.
This book is dedicated to my mother and father, Ena and Jack Smith,
and my cousins, Sally Glithro and Jules Bottrill.
I also dedicate The 9:45 To Bletchley to the estimated ten thousand men and woman who worked at Bletchley Park and its associated outstations. In twenty-four hour shifts, they worked on the complex tasks of intercepting, deciphering, analysing, and distributing intelligence received from enemy radio signals. Because of the Codebreakers' efforts, the Second World War was shortened by two years, saving tens of thousands of lives.
Last, but by no means least, I dedicate this book to the wartime factory workers, the majority of them were wives and mothers bringing up families while keeping the home fires burning, so the men and women of our armed forces had a home to come back to.
NOVEMBER 14, 1940
CHAPTER ONE
Ena heard the air raid siren start up. Some minutes later, she heard the planes. A distant hum at first, growing louder as they drew near. She panicked. Time was running out.
'Ena…?' her father called, his words drowned out by the siren's penetrating wail.
She glanced up. Thomas Dudley stood in the doorway of the annexe where she worked. Behind him, most of Lowarth's ARP wardens were evacuating the factory. 'Two minutes!' she shouted, and returned to her work. It was vital that she finished the job before she left. The following morning, her boss was taking it to somewhere called Station X. Ena didn't know where Station X was; the address was classified.
'Now!' Thomas Dudley ordered, ushering the factory's owner, Herbert Silcott, and his assistant, Freda King, out of the room.
'I'm coming!' Ena held the last of the wires between her thumb and index finger as enemy aircraft thundered overhead. Her pulse quickened but she remained focused. Gently, slowly, she massaged the fine wires until they were touching. She took several breaths to calm herself and, willing her hands not to tremble, lifted the soldering iron. It was crucial that she fused the wires and pulled them through the hole in the centre of a disc on what was called an X-board. Only then could she put the work in the safe. She took a final calming breath. 'One… two… done!'
As she slumped back in her chair, exhausted, Ena heard an explosion. It was close. She ducked instinctively and looked up. Asbestos floated down from the prefabricated ceiling panels. She glared at them, daring them to fall. When she was sure the roof wasn't going to collapse on top of her, Ena leant forward, head down and arms outstretched, to shield her work.
Fine dust, like talcum powder, filled the air. Hunched over the X-board, Ena stood up and placed it in its box. Pulling on the lid, she felt the locking mechanism thud as it engaged.
Felt it. She didn't hear it. She couldn't hear anything except a shrill, continuous ringing that masked the sirens and aeroplanes. She put her fingers in her ears, jiggled them up and down, and pulled on her earlobes. Nothing helped; the ringing persisted. She was deaf and she was frightened. She wanted to get out of there but she couldn't. Only when she had secured the X-board in its locked box in the concrete safe, which she called the bunker, could she leave.
Lifting the box, keeping it level, Ena carried it across the room and placed it carefully on the counter. She prised the reinforced lid from the top of the bunker and-- 'What the--?' She jumped, dropped the lid, and watched it crash down next to the box containing her work. She whipped round. 'Dad? What the hell are you doing creeping up on me like that?'
'Creeping up on you? I called you half a dozen times. You ignored me.'
'What?' Ena pulled on the lobes of her ears again. 'I can't hear you.'
'Then we had better get you out of here,' her father said, articulating
Free ebook «The 9 Madalyn Morgan (best romantic novels in english .TXT) 📖» - read online now