Ruins Brian Aldiss (books like harry potter txt) 📖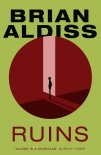 Download in Format:
Book online «Ruins Brian Aldiss (books like harry potter txt) 📖». Author Brian Aldiss
---
RUINS
Brian Aldiss
Copyright
HarperCollinsPublishers
1 London Bridge Street
London SE1 9GF
www.harpercollins.co.uk
HarperCollinsPublishers
1st Floor, Watermarque Building, Ringsend Road
Dublin 4, Ireland
First published in Great Britain in 1987 by Hutchinson, an imprint of Century Hutchinson Ltd
Copyright © Brian Aldiss 1987
Cover design by Andrew Davis © HarperCollinsPublishers Ltd 2021
Brian Aldiss asserts the moral right to be identified as the author of this work
A catalogue copy of this book is available from the British Library.
This novel is entirely a work of fiction. The names, characters and incidents portrayed in it are the work of the author's imagination. Any resemblance to actual persons, living or dead, events or localities is entirely coincidental.
All rights reserved under International and Pan-American Copyright Conventions. By payment of the required fees, you have been granted the non-exclusive, non-transferable right to access and read the text of this e-book on screen. No part of this text may be reproduced, transmitted, down-loaded, decompiled, reverse engineered, or stored in or introduced into any information storage and retrieval system, in any form or by any means, whether electronic or mechanical, now known or hereinafter invented, without the express written permission of HarperCollins.
Source ISBN: 9780008412562
Ebook Edition © March 2021 ISBN: 9780008412586
Version: 2021-02-04
Dedication
'Our dreams have jurisdiction only over ourselves'
Bunny Jingadangelow
for David and Sue, with love
Contents
Cover
Title Page
Copyright
Dedication
Note on the text
Ruins
Restorations
About the Author
Also by Brian Aldiss and published by HarperCollins
About the Publisher
Note on the text
The text of this edition was generated by scanning an earlier print copy of the story in its first edition. The text is a product of its period and presented here as it was in its first publication.
Ruins
That afternoon, they went to the movies to see Ali McGraw in Love Story, Ashley's movie of the moment, which was showing in Times Square. Afterwards they took tea in the Algonquin lounge since Ashley had an interest in the hotel cat. They happened to meet some old friends there, one of whom had known Hugh Billing in his musical days. They all visited a few bars, ate Mexican in the only Mexican restaurant they knew, took in some jazz on the fringes of Harlem and arrived back late at the apartment.
A cable announcing the death of Hugh's mother was awaiting him.
'Do you want me to go to Great Britain with you? I have never been in Britain,' Ashley said. 'We could take a look at London and Land's End.'
'I'd better go alone. They say you travel faster that way.'
She said nothing for a moment, contemplating him, certain he would not return. 'That's just an airline ad, isn't it? Something eats at you all the time, Hugh Billing. Your brain sure is your erogenous zone.'
'It's not that,' Hugh said, thinking maybe he should shave off his moustache or trim it just a bit. He tried to recall what London looked like.
The years had flown since Billing was last in his native country. London, seen from the taxi as he rode in from the airport, frightened him. Dirt, graffiti, crowds, miscellaneous people. Why should someone wish to write UNDERARM ODOUR KILLS on a brick wall under a flyover? He felt himself unchanged, although he was older and his moustache was trimmed. He was thin and neat of figure – an ethos of frugality, learnt from a woman in California, had ensured as much. But he could no longer think in an English way. His clothes were American, he spoke American. The shower in his London hotel wept all the night on to the cracked tiles and was cold towards him in the morning.
The years had flown. His old friends had gone from their favourite haunts. Most of those who had worked in the music business had retired or died. His sister June was dead, her widowed husband working for a shipping line in the Persian Gulf. Other people he had known had either gone abroad or had been scattered, as if a squall had blown up.
The years had flown. Only the lawyers who had sent the cable to New York were friendly, in their professional way. They gave him details of his mother's death, where the funeral was to be held, and the address of Gladys Lee, who was handling the arrangements for a small reception after the burial service. Gladys Lee was no relation of Billing's: she was his absent brother-in-law's old mother. Mrs Gladys Lee. He barely remembered her. Everyone at the reception looked strange and short of Vitamin C.
'Your mother and I weren't on too good terms, to be frank, Hugh. She was … not sincere. Still, live and let live.' She put a hand up to her mouth. 'In a manner of speaking, that's to say.' He couldn't get used to the English idioms. Gladys was so ancient; Billing wandered off to talk to someone else.
'I've just come back from Spain. It's a wonderful place, very orderly for a Mediterranean country. I'll say that for Franco – he does keep everything in order.' The man who was talking to Billing across their sherry glasses was evidently of the old school, his dark suit and the aroma of moth balls it exuded being ideal for funerals. 'I hate death, don't you? Always have done.'
At the same time, he was looking Billing up and down through his horn-rimmed spectacles. He found Billing odd and Billing knew it. Only women – themselves almost always odd, Billing reflected – found him okay, accepted the fact that he fitted nowhere.
The front room of Gladys Lee's small terraced house was crowded with people who seemed puzzled by Billing. They were all old and had perfected ways of talking in patent accents. He remembered none of them. Their hearing aids were aligned against him.
The man with the horn-rimmed spectacles led Billing over to a man mouldering in an armchair, bald of head and dull of eye, whom he
Free ebook «Ruins Brian Aldiss (books like harry potter txt) 📖» - read online now