Aequitas by Hope Anika (best ebook pdf reader android txt) 📖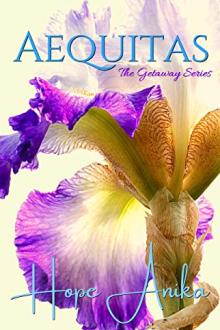 Download in Format:
Book online «Aequitas by Hope Anika (best ebook pdf reader android txt) 📖». Author Hope Anika
---
Aequitas
Hope Anika
Copyright © 2016 by Hope McKenzie
All rights reserved.
No part of this book may be reproduced in any form or by any electronic or mechanical means, including information storage and retrieval systems, without written permission from the author, except for the use of brief quotations in a book review.
Contents
Prologue
Chapter 1
Chapter 2
Chapter 3
Chapter 4
Chapter 5
Chapter 6
Chapter 7
Chapter 8
Chapter 9
Epilogue
The Getaway
The Bequest
In Plain Sight
Evolution: Awakening
HAIL MARY
About the Author
Also by Hope Anika
Prologue
I know who you are.
Don't worry; I won't tell.
She stared at the computer monitor, her heart beating in her skull like a drum. The words simply appeared, one horrific letter at a time. Panic shrieked in her ears.
My name is Lazarus, and we've something in common, you and I.
We're the same.
No. No one was like her. No one.
Certainly not this anonymous…infiltrator.
Won't you talk to me?
She leaned over slowly, carefully, as if the slightest twitch would detonate an explosion, and silenced him.
My lovely, slippery lass.
Always making me chase you.
Good that I love to hunt.
She glared at the screen. Thousands of dollars. Ill-gotten gains, but still. Ditching this jerk was getting expensive. And annoying.
And almost impossible. That scared her.
Talk to me.
No. Never.
You will.
I'll see to it.
Something within her went so taut, it hurt. Because this odd man, this Lazarus, whoever he was, he seemed…
"No," she growled and pulled the plug.
I've been thinking about you.
She froze; the bright white flicker burned into her eyes. She followed the letters as they scrolled across her screen, unwelcome. Uninvited. Thousands of dollars, and now thousands of miles, too.
And yet, here he was.
I know what today is.
Fear burst within her, cold, certain. He couldn't know. He was just fishing, like always. He couldn't know. No. That was ridiculous. That would mean—
I'm sorry, lass.
I know it hurts.
Oh God. Who the hell was he?
She tossed back her wine; she'd almost downed the entire bottle. She shouldn't have, but she did. Because he was right. It did hurt. And she was tempted, so tempted to respond…
Share it, a rứnsearc.
It will help.
I promise.
"You promise," she whispered, her breath fogging the wine glass she held.
You can tell me anything.
She threw the glass; it shattered against the brick and rained down, tiny shards she would have to pick up. Later, when she wouldn't be tempted to cut herself with them.
"I hate you," she told him. But he couldn't hear her. Because she never spoke. Because silence was safe. Because—
"Fuck it," she snarled and yanked the keyboard to her.
"STALK MUCH?!" She typed furiously, her fingers clumsy, her hands shaking.
There you are.
Finally.
"PSYCHO," she added.
Nay.
Just persistent.
"UNINVITED."
But not unwanted.
She blinked in disbelief at the screen. "SAYS YOU!"
Aye.
"ASSHOLE."
Sometimes.
Her teeth ground together; her chest grew tight. Excitement and rage and fear and memory, twisting around her like the tightest rope. Binding and suffocating and inescapable.
"WHY ME?" Because she wanted—needed—to know.
You're not ready for the answer to that question.
Not yet.
The wine she'd consumed churned in her belly like the ocean during a squall. "WHAT DO YOU WANT?"
Many, many things.
Which both horrified and thrilled her. Jesus, she was screwed.
"NAME ONE."
To know you.
She stared at the screen, her heart beating too hard, and,
Free ebook «Aequitas by Hope Anika (best ebook pdf reader android txt) 📖» - read online now