Five Weeks by Shruti Omar (good books to read for teens .TXT) 📕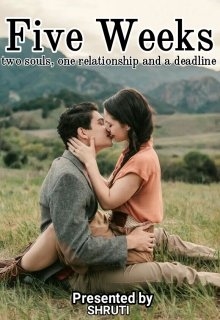 Download in Format:
Book online «Five Weeks by Shruti Omar (good books to read for teens .TXT) 📕». Author Shruti Omar
---
Sneak Peak
Five Weeks. Thirty five Days. Eight forty hours. Fifty thousand four hundred minutes. Three million twenty four thousand seconds of endurance and I will be able to fly free in the vast welkin like a bird. She mulled, optimistically and employed herself in unscrewing the earrings.
"Just remember that this marriage is out of convenience, darling. You will have to be strong and stay hundred yards away from your husband. Got it?" Mukund's final words of warning resonated in her ears as she sighed and dropped the earrings beside the pool of her bangles on the vanity table.
With a creak, the bedroom door opened and she raised her thick lashed eyes to the mirror again. Her lips - full and luscious, painted in red lip color - stretched up in a faux smile when her husband stepped inside. How could she not feel his presence and the scorching warmth that filled the void of the room instantly. His pair of warm, grey eyes - sparkling pool of liquid silver as she preferred to view them - examined the whole room before zeroing his wandering vision on the mirror and they shined in delight. 
A few days of pretension and I'll be out of this. She mused, smiling and coyly embraced his gaze with hers, working on to unfix the heavy piece of jewelry around her slender neck.  
'When in Rome do as Romans do,' her rational mind advised.
________
Hey guys, So this will be my first full length novel. I hope you will enjoy this and I will try to finish this book as soon as I can if only I get enough love and support from you guys in form of numerous reads and followings. I plan to expand my work on this platform and it will only be possible when my words will reach to multitude ears. I have gained enough love on WATTPAD but I think some of the stories are meant ot be loved and adored by everyone. I hope this book can win your love and support. 
‍​‌‌​​‌‌‌​​‌​‌‌​‌​​​‌​‌‌‌​‌‌​​​‌‌​​‌‌​‌​‌​​​‌​‌‌‍
Did you like the chapter?
An honest rating will help the author to write the book. It's anonymous.
$(document).ready(function () { $('.rating-star').on('click touchstart', function (e) { Reader.stars.sendRating(e.target.value); }); });
Free ebook «Five Weeks by Shruti Omar (good books to read for teens .TXT) 📕» - read online now