Dominate me by Julia Romush (most read books txt) 📖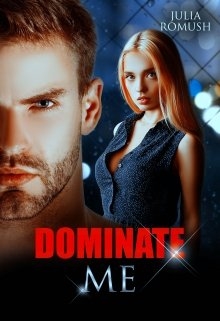 Download in Format:
Book online «Dominate me by Julia Romush (most read books txt) 📖». Author Julia Romush
---
1
I make a deep breath and grabbing my fingers for a cold handle of the door, pull it down. 
I won't be able to do it later if I won't do it now.  Or now, or never. 
Push the doors slightly forward, looking into darkness.  In the room entirely dark, and only the desktop lamp is included, slightly covering the premises. 
But even this dull light is enough to consider a man sitting behind this table. 
The heart falls downward, in the heel area.  Hit the floor and fades away. 
Has passed for two years.  It's too much in order to change anything. 
But I did not change anything.  I still fall into a stupor in his presence.  Fingers hands, as always, humorous from cold, and in the throat, everything moves so much that even breathe becomes murderous. 
He will look at me now ... will now be a control shot. 
Artem puts a handle on the table and slowly raises his head.  He seems to know who entered his office.  As if he feels. 
Swallow saliva and occur with his view.  As always, cold.  Indifferent. His view kills me. 
His blue eyes are similar to the iceberg, the cold from which lightning quickly swept through the skin and want herself to hug hands behind the body so though a little warm. 
"I did not invite you here", a man does not give a look that somehow surprised to my appearance.  But to voice that he is not happy to me, he did not forget. 
Brushing in my hand to his business card, which he gave me in case "If you want to rush to my legs," and do a step forward. 
I would never come here. 
No matter what I was going to do what is not one "but".  And ... This is more important than pride, principles and mistakes of the past.  For this I'm ready for everything. 
Showing him his business card. 
"You said I could seek help when I need it. "
The corners of his lips shivered, and the lips were in a smile. 
"You?". He studies me with a proud interest, "did we move on "You"?!  What you used to be a girl of my son, doesn't give you the right to talk to me as tone. "
So, the goat, I came here by my desire.  Enjoy this fact, a fool! 
"Mr. Klimov", said myself, "you said that I could seek help", I make an emphasis on the first word. 
"I do not remember this ...". Puts a handle on the table and rests on the back armchairs, "but I remember how "If ever you need help from me ..." 
"And what will be then?". Clarify to know what I need to be ready. 
"You need my help?". The man meets the question. 
"Yes", I do not make sense to hide it. 
"You remember, I said to you then?". For him, it all looks like a game.  I see how his eyes are burning when he mocks to mope me. 
"No ..." 
"You have a very convenient selective memory", Artem bends his head to side and pierces me with such a glance, after which the ants on the body run.  He doesn't believe me.  And makes it right. 
Of course, I remembered all that he said.  In his own words, he put me on one level with recycled garbage. 
"And?". He gets up from behind the table and bypasses it and becomes opposite me. 
"What's "and"?". The man still does not lead from my view, forcing to feel inconvenience and shame. 
"You agree?". Question in the forehead.  Does not go around.  Does not lose time.
"Yes", and he only nods, as if he expected only such development of events.
"Alex will take you", sits on the desktop in front of me and crosses his hands on his chest. 
"Where?". I didn't understand what's going on.  Why I need to go so unexpectedly and why it was mentioned in such a tone, as if he gives me orders. 
"Where?!". It seems that his patience fitted to the end, - to you home. 
"Why?". It looks like a joke, but I'm absolutely not funny.  I don't understand what happens and feel very foolish. 
"You say that you remember our last conversation?!". He likes to watch me in such a humiliating state. 
"I remember", nodding, recognizing that it is. 
"Very good.  Then silently, not asking questions, go out ..." 
"... and ride with the Alex", with irony finish instead of him.  Absurd someone rather than communication. 
"Well done.  You are taught quickly", say Artem, looking at the clock.  Giving it to be realized that I take too much of his precious time with my empty questions. 
"Only who is he?". The man wrote me in my life as a beautiful vase bought by days.  Has arranged a place for me.  Says where to stand and how to please the eye.  Only I forgot to dedicate all these details.  I know absolutely nothing about his orders, but, apparently, it should already be treated so as not to make discomfort in his life. 
"For you - no one.  A person without sex and age."
Artem withstands a tense pause. 
"From today, for you, man cease to exist.  Especially men.  Your world narrows to my bedroom size ..." 
"And how's my job?". He is not thought that I could fully adjust my life to him.  Or could? 
"Well, we can insert in your work book - "mistresses ".  Only it is unlikely to be recognized as a profession ... But ... if you do not suit you, you can say goodbye to everything that you are so expensive." 
Artem knew how to click on painful places.  He understood that I came from a hopelessness, therefore, I did.  Said.  Put the conditions.  Required their performance. 
"I ... agree", because everything will be temporary frames.  For the sake of the future I can suffer. Even next to that devil as this  . 
"You understand what ..." 
 
"I do not matter all this", I'm going to forces, "It is important for me that you restrain your word and performed everything, whatever I did not ask.  In this case, I agree on everything." 
"Very good", he smiles, "then let's find out: you understand exactly what are you here?"
‍​‌‌​​‌‌‌​​‌​‌‌​‌​​​‌​‌‌‌​‌‌​​​‌‌​​‌‌​‌​‌​​​‌​‌‌‍
Free ebook «Dominate me by Julia Romush (most read books txt) 📖» - read online now