When A Bully Falls In Love by Valerie Sax (good books to read for women TXT) 📖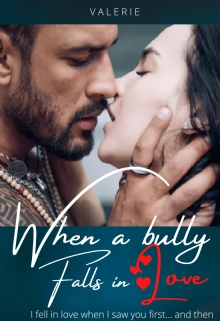 Download in Format:
Book online «When A Bully Falls In Love by Valerie Sax (good books to read for women TXT) 📖». Author Valerie Sax
---
Chapter 1: The Xander Baston
CHARACTERS  INTRODUCTION
COPYRIGHT ©
All rights are reserved. This story may not be copied, recreated, or translated in any form or shape. Please remember any of the work created on my account if copied will be taken legal action. If any work found on this platform or another platform that belongs to me legally is illegally copied. All of my books and work are legally submitted under US government copyright authority, if you see anyone copying my stories or posting on other sites, please don't hesitate to report me on my author email given in the profile.
Last but not the least, if you think this warning Is a lie and still try to steal this story, be ready to pay back the royalties in thousands of US dollars.
hope you enjoy this story.
Kill me
Lie me
Curse me
Do it one more again
Hold me. (Darkroom)
The sound of the woofer coming from the Aventador was enough to tell others not to go near his territory, 
The engine pulsated the monoxide in the air, and the car shook with the action inhabitant inside.
 Those tinted Black glasses encapsulated the adventure, keeping others unaware, and the sound of moans became the whispers of cries; nobody intruded to look after.
Why would anyone go into the lion's cave? After all, he was enjoying his morning feast; he was the uncrowned king of this college.
A bully, 
Once that tinted Black glass slides. The steam of warmth evaporated outside, and the satisfied eyes scanned the rear mirror- he sneered, hearing the exhausted breath of his partner in crime.
The girl called his name in a suppressed voice.
"X...X...., Xander,"
His twirled lips changed, and an eyebrow arched. "It's sir, not Xander." The devilish smile said it all.
She gasped as he clutched her jaw with a single grip.
"Can I go?" "Sir," She averted her gaze.
"I hope you understand your lesson very well,"
She nodded without lifting her eyes.
With a scowl, he signaled her to leave his damn car.
She listened to him like a puppy with a lowered peer as per the rule.
Xander made the rule for all the seniors and juniors.
 No junior could talk to their senior with direct eye contact; they needed to look at their third button while answering their senior.
After she left, he wore his jeans and tight-fitting short sleeves Black t-shirt, enhancing those biceps to crush thousands of hearts. He came out after his morning dose as he exhaled warm air on the college campus.
He is Xander Baston, a rich, spoiled brat of the Baston family. His mother comes from a Greek family, and his father comes from a Viking bloodline. He was the perfect package of looks and strength. There was no compromise with his sculpted looks,
Tall, dark, and handsome was just an understatement for him to describe. His chiseled body encapsulated as every muscle in his torso flowed from the light into the dark. He was a living work of art, His brown-glossy eyes and brown skin so tempting; every girl in the college wanted to crawl under him even knowing he was one ruthless man.
Last year, he punctured his skin with a tattoo on his body that complimented him very well. 
He opened his long muscular arms, looked around, and racked his Black-thick curls.
In front of his eyes, there is a big campus; his college,
'Saint Xavier College of Business Management
He was the uncrowned king of this college.
The biggest bully who wanted to rule on his terms feared no one, as his mother was a significant contributor to this college and a valuable trustee. He closed the door and pressed the car key lock with the pad of his thumb. 
"I am hungry." He exhaled another warm air while heading towards the college canteen.
Within a few moments, his sycophant friends joined him on the way.
They wanted to stick to him for the little favors; he knew them very well, but he used to enjoy these dual masked people.
His only genuine friend was Matt, who always wanted to correct his action while teaching him life lessons and how to respect people.
Xander, surrounded by fake friends, walked towards Matt's car.
"Hello, Brother," Xander smirked and hugged him.
"Again?" Matt rolled his eyes and gave him a doubtful look while brushing a long hair from his t-shirt.
"What?" Xander said.
"You did it again on a college campus?" Matt rolled his eyes.
"What? Practically I did in my car, not on the campus." 
Matt caught him off guard.
"You are a...., At least respect where you come for studies." Matt jerked his hand.
"Come on, Matty, the one thing I come here is for you, and these girls are my sidekicks."
Xander laughed.
"Seriously? I am telling you, Xan. Their curses will come on you when you fall in love with a girl." Matt warned him.
Xander wadded as he ignored Matt's words completely
"You started again; stop this bullshit. Women are only for my pleasure. I am not a man who falls in love with any of them; I am a lion who wants every lioness in his territory."
Xander modulated his voice.
‍​‌‌​​‌‌‌​​‌​‌‌​‌​​​‌​‌‌‌​‌‌​​​‌‌​​‌‌​‌​‌​​​‌​‌‌‍
Free ebook «When A Bully Falls In Love by Valerie Sax (good books to read for women TXT) 📖» - read online now